Welcome to ePayTraffic
Latest News:
Please read
here
.
September 22, 2019
A membership site...
- dedicated to generating multiple streams of income for all members.
- that implements Quality Management policies, processes and procedures.
- that uses key performance indicators to ensure ongoing profitability for all members.
- that offers a step-by-step, Member Level Offer Program for all members to profit in a revenue sharing program.

Members are expected ...
- to be active.
- to stay informed and participate within the revenue sharing program.
- to be honest, respectful and be prepared to learn about business, investing and money management.

Services offered to members include ...
- advanced hosting for websites, profile pages, banner images and more.
- domain registration and management.
- collaborative advertising.
- active sales lead generation.
- performance based task management.
- secured trading system marketplace.


The following chart is one of our
Key Performance Indicators (KPI)
of our program ability to deliver traffic for advertisers. It does not include organic views from our site visitors. It does not include any banner or text links clicked by anyone. It is a measure of advertised sites viewed by our registered members.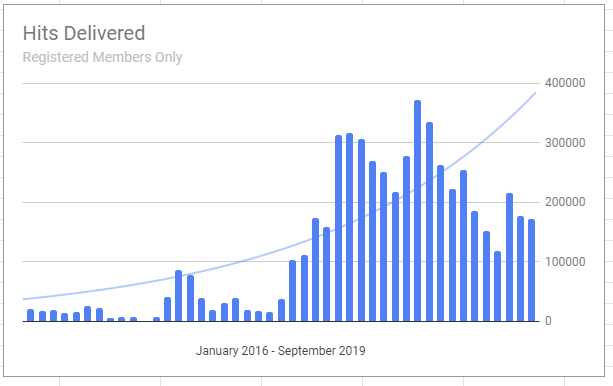 The following chart is a KPI that represents our ability to grow our membership revenue sharing portfolio.

Increasing Transparency!
It is company policy to demonstrate openness, honesty and freedom to earn an online income without being cheated. To see the latest news, site statistics, program details, reviews, rankings, and more, please visit and/or joint our club at
IncomeProClub
.
FJ, February 4, 2018